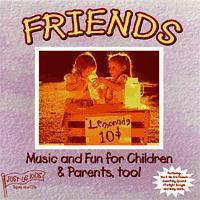 "Friends" CD by Just Us Kids
JUST US KIDSŪ
There is nothing greater than the laughter and happiness of children. Just Us Kids strive to create CDs and tapes that deliver music and fun to children and parents as well. With the release of their "Friends" CD, Just Us Kids has created 16 original and memorable songs that kids go wild over. The Just Us Kids recording style, themes, and musical delivery incent parents to listen to "Friends" with their children.

Give your children the gift of music that shows the importance of friendship, as in the warm melody of "You & Me Are Friends". "Something Special" is a toe-tapping song that shows kids some of the many things to be when they grow up. The celestial setting of "Starlight Boogie" is an entertaining, good-time song. "Telling Time" brings awareness of time in everyday life to children. From the interactive "Everybody Likes To Dance" to the energetic and humorous "My Dog's Gone Crazy", "Friends" is truly an enjoyable experience for both children and parents.

Makes an excellent
Birthday or Holiday Gift!